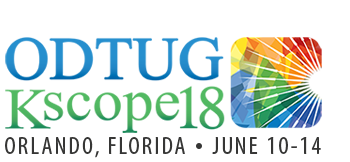 As my family and I wrapped our first-ever family trip to Disney World, I received four e-mails from ODTUG.  The first two that I read let me know that two of my abstracts had been declined.  The second two let me know that two of my abstracts had been accepted!  So…back to Disney World I go!  I'm extremely honored and excited to have been selected to speak at Kscope18.  Thank you to everyone on the Kscope18 selection committee for the countless hours required to review over 1000 abstracts and narrow it down to around 300.  So what will I be presenting?
Teaching On-Prem Planning some PBCS Tricks
Who says you can't teach an old dog new tricks? PBCS has continued to add features since its initial release at a very good pace. Unfortunately, the exact opposite is true for on-premise Hyperion Planning. With little more than basic patches having been made available, PBCS is well over 3 years ahead of its on-premise sibling. If you are stuck with on-premise Hyperion Planning and would like to add some of the cool new features from PBCS to your application, this session is for you. Learn how to harness the power of Smart Push…on-premise. Learn how to create and use Smart Lists dynamically connected to dimensions…on-premise. This session will come complete with various demos and sample code to get you up and running with your shiny new PBCS tricks on your old-school on-premise application.
ASO and BSO and Hybrid! Oh My!
Essbase started off with BSO, and everyone loved it. BSO is still loved by many in the Essbase community, but many applications work much better in ASO. Now Oracle has given us Hybrid mode…which is also great. But which technology is the best? The answer, as many consultants like to tell clients is…it depends. Each choice has strengths and weaknesses…some unexpected. We'll discuss tuning Hybrid applications using non-traditional block sizes. We'll discuss why ASO can't always be replaced by Hybrid applications. We'll even talk about Smart Push and why Hybrid may not matter for many applications. If you are considering which storage option to use for your application, this session should help you make a decision. We'll even throw in a live demo to show some of the massive differences between each storage technology.
See you at the Dophin and the Swan!